CABLE ROUTING AND MANAGEMENT - CABLE SYSTEM
We have our own solution software application TRACEMAN® tested at both Czech nuclear power plants Temelín and Dukovany as well as abroad. TRACEMAN® is a systematic approach to creating cable systems projects with the most stringent conditions applied in the most demanding operations such as nuclear power plants.

product logo 2019
The cable system, sometimes also referred to as cable management, is a significant technological complex in large-scale industrial plants such as power plants (nuclear, conventional), electrical substations, chemical or metallurgical plants, and a critical part in terms of functionality and reliability.
The cable system consists of the cables themselves interconnecting the individual devices which energy and signal enabling their operation, as well as full, safe, functional control and cable supporting systems designed for cable storage.
The cable system is subject of very strict segregation and separation requirements, which are necessary to ensure safety and electrical compatibility, the so-called EMC concept, especially in nuclear power plants.
The output is the creation of a complex project of cable system with respect to fulfilment of all requirements: segregation, separation, seismic, filling, loading and others.
PRODUCT DESCRIPTION
TRACEMAN® is primarily intended for:
Design of cable supporting systems
Routing cables to cable supporting systems
Ensuring complex cable coordination during construction
Management of complete cable system during its life span
USER INTERFACE

TRACEMAN® has a high standard of visualization in 2D and 3D environments.
EXAMPLES OF VISUALIZATION IN THE 2D ENVIRONMENT
| | | | | |
| --- | --- | --- | --- | --- |
| SITE (GENERAL DRAWING) | | ELEVATION IN SITE | | NON HERMETIC PENETRATION |
| | | | | |
EXAMPLES OF VISUALIZATION IN THE 3D ENVIRONMENT
CABLE SUPPORT SYSTEM - PROJECT OF REACTOR BUILDING
(DIVIDED BY SZN - SEPARATION)
DETAIL OF TRAYS AND NONHERMETIC PENETRATION
(SEGREGATION DIVISION)
DETAIL OF THE TRAY PLASED IN AREA
(SEGREGATION DIVISION)
TRACEMAN® PROVIDES
Centralized storage of all cable system elements
Design creation of individual parts of cable system while observing technical standards and regulations, with the possibility of using other database or graphic applications
Full visualization of all elements of the cable system with the possibility of their modification - insertion, editing, removal, etc.
Systematic management of the cable system during its life span
Multi-user management system
Increased efficiency in cable system implementation work
A stable and proven system in the nuclear industry
These processes ensure compliance with internal system controls, compliance with technical standards, cabling management principles and cable routing, such as national standards, harmonized with international IEC standards, application of site specific specifications (restricted cable transit through selected rooms), engineering solutions, ROUTING CRITERIA (LOAD, FILLING, SEGREGATION AND SEPARATION distances, REDUNDANCY), duplicate record exclusion, route continuity check.
IMPORT – EXPORT
TRACEMAN® is a variable application and format of its data allows to communicate with a variety of other software applications - database, graphic and text.
Data can be shared with other software applications
Data can be exported and imported
3D format data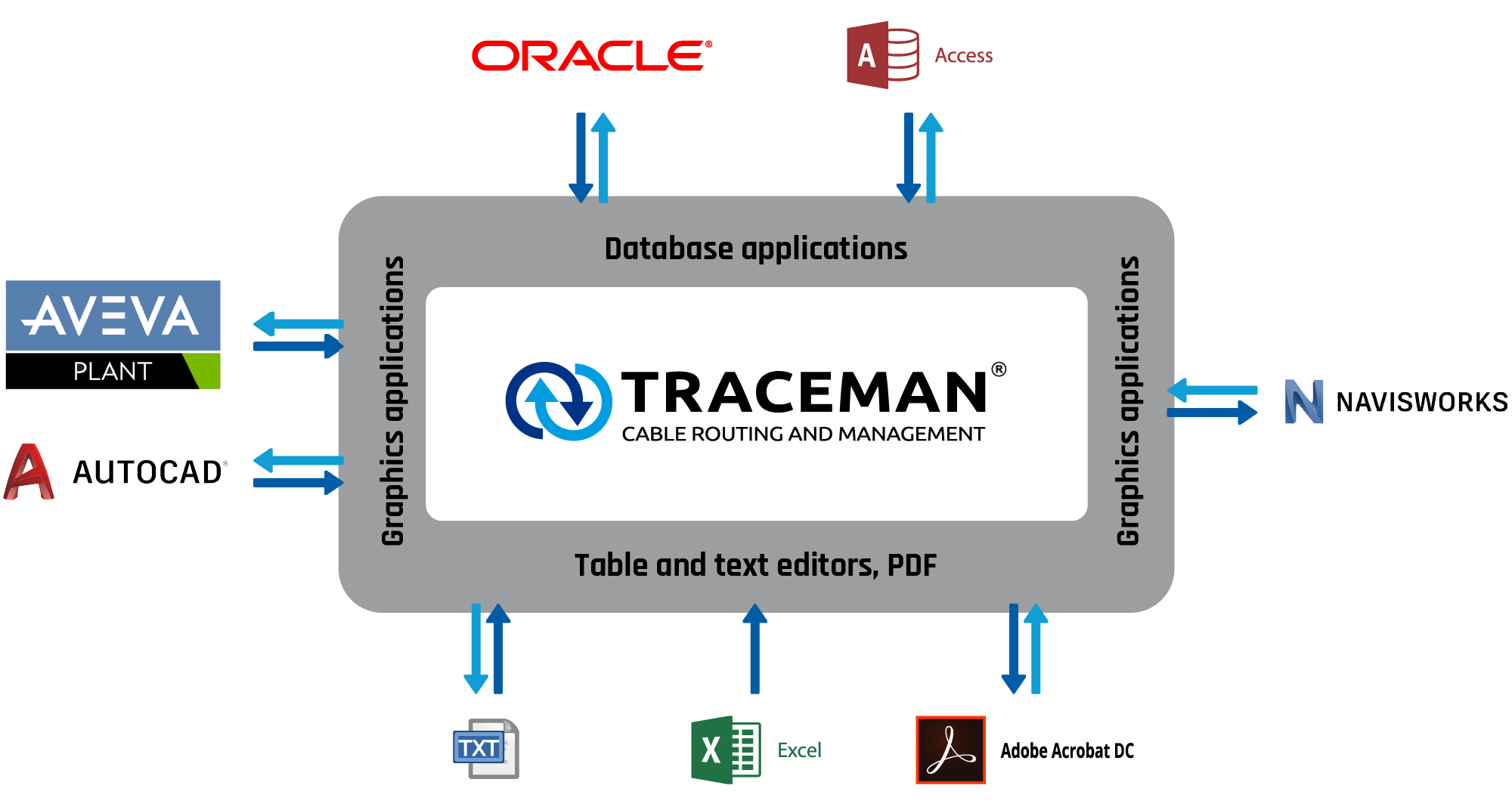 PRINT OUTPUT:
Layout drawings of the main cable raceways and equipment
Sections of individual parts of main cable raceways with list of designed / pulled cables
Mounting drawings of cable supporting system.
Cable pulling cards for main and secondary cable raceways
Drawings of fire barrier with a list of designed / pulled cables
Hermetic cable penetrations, connection drawings (for nuclear plants)
CLIENT - SERVER APPLICATION
Access to data in a network environment that allows multiple users work
Possibility of working and viewing the application through web interface (VPN, RDP)
Online access to design and data through web interface
Possibility of offline application on external devices for on-site performance without internet connection.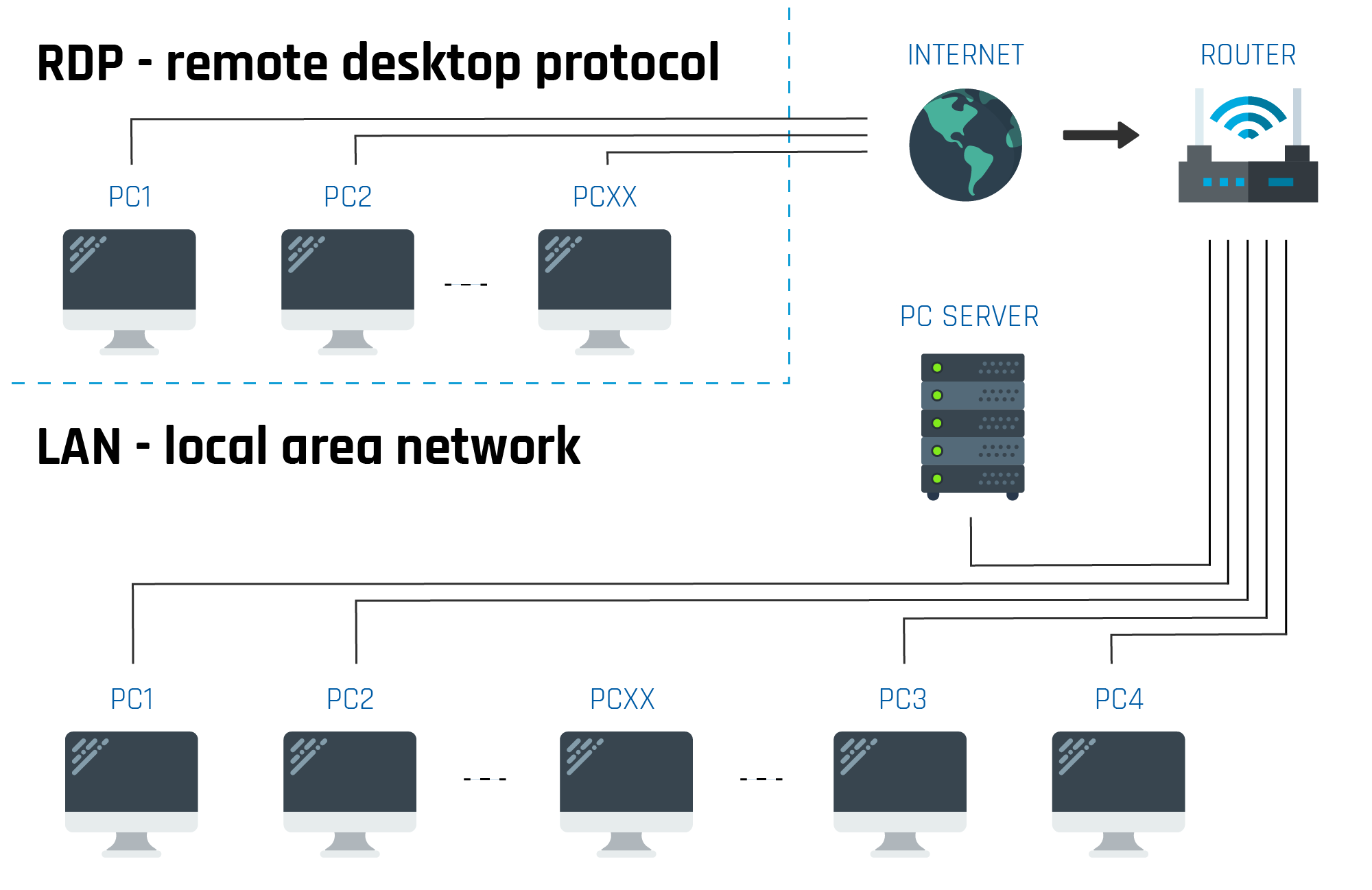 BASIC PRODUCT FEATURES
Clear user interface
Intuitive and comfortable control
Full visualization of all cable system elements with their possible modifications
Creation of a comprehensive design (cable supporting system, cables)
Systematic cable management during the life span
Ensures organized and systematic work during implementation
Providing comprehensive information about the cable system (bill of material, cables, hermetic penetrations, non-hermetic penetrations)
The ability to exchange data with other applications
Large number of database and print output according to the realization needs
Multi-user system, application CLIENT - SERVER
ORACLE database system
System variability according to its deployment
Stable and proven system
Multi-lingual system version (CZE, ENG, RUS, SVK)
Fully integrated help